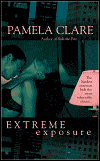 Extreme Exposure by Pamela Clare is a book I won from Alison Kent's blog. A romantic suspense, it was an easy read, with really great sexual tension. What compelled me to keep reading was the characters. Despite it being a romantic suspense, for me this was a character driven book. The suspense angle was okay, not too badly done, though I found it somewhat implausible and the identity of the "bad guys" was kind of a gimme.

The characters though, were fairly well drawn. He's a high-school teacher turned state senator and she's a single mother and investigative journalist. Though he is portrayed as the nicest guy ever, he doesn't come off as irritating or unbelievable or obnoxious. He's just a nice guy–perfect husband material!
She's got some realistic hang-ups about relationships after being basically ditched by her son's biological father. She's also career driven, though struggling to balance motherhood with her work life and dealing with the guilt that goes with that (oh boy, is that relatable, or what!). She's also thinking it's not a great idea to get involved with someone she has to write stories about. I can see where that might be a conflict.
So what drove me to keep reading wasn't the suspense, but the interaction between the characters and waiting to see the final resolution of their relationship (duh, I knew they were going to get a HEA, but I wanted to see how it all turned out).
I had a sense of time well-spent when I finished reading the book. Recommended for those who enjoy the characters. Not so much recommended for hard core fans of romantic suspense. While it's fast paced and action filled, it does stretch the boundaries of believability. Which, for some people, isn't such a big deal.