Last week in the comments of a Dear Author thread, I told one of the commenters I'd take some pictures of the Sony and the Kindle, for a visual comparison of size, as well as the best visual comparison of the screen images as I could get. Luckily, I have a sunroom that gets good light in the morning, so the pictures don't do too bad a job showing the readers in natural light. Since I have them, I also threw in some pictures of the Ebookwise, the iPhone and the Asus EeePC. Sadly, I don't have the Sony 700 or other readers to provide comparison pictures of.
I'm going to share a few here, but for the whole shebang (I took a lot) please go to this album to browse them. There you'll find pictures of the Sony and Kindle from all angles, including the back, pictures of me holding them and side views, all to give you an idea of the differences between the two.
Two side by sides of the Kindle and Sony 505 from different angles

And a picture for a comparison of the eink screen on each. To be honest, I thought the Sony might be darker but side by side, I didn't notice any big difference. I have to wonder if it's the difference in the white casing versus the darker casing.

And shots of all the readers (From left to right: Asus EEE 900, iPhone, Kindle, Sony 505, Ebookwise: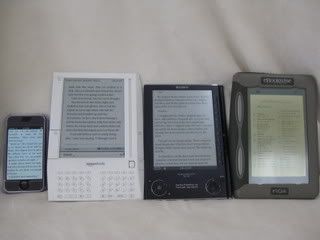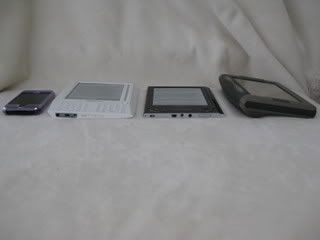 Eink versus grayscale: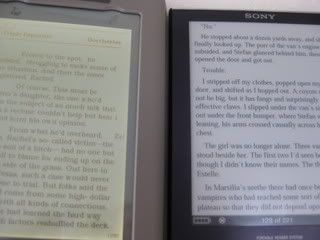 I think it's important to note about the grayscale, that the contrast can be adjusted quite a bit. That's just how I happened to have it.
Anyone want to see any other pictures that I didn't include?
Related articles by Zemanta